As home to more small and medium-sized businesses than any other state (3.7 million) and five of the Top 10 cities for SMBs, California has undoubtedly become a hotbed for online small businesses. With San Francisco Small Business Week underway, we want to share some insight with all of those e-commerce businesses right in our own backyard.
If you're a California resident looking to start or grow your business, you might be wondering where you should look to build your audience. Our team has pulled together the 2015 data from our customers (e-commerce businesses of all sizes) to share what states receive the most packages from California companies. This data can help aspiring SMBs determine the best places to find customers.
The best place for California companies to find customers? Actually, California.
While California is an ideal spot for companies, it's also a great place for those California-based businesses to find customers. How do we know that? Just look at our numbers. California receives the most Endicia packages from California-based businesses by a long shot — 20 percent of all packages shipped from The Golden State.
And if you're not focused on your fellow Californians, the next best places for your California-based online business to find customers are U.S. states with the next-highest populations: Texas, Florida, New York and Illinois.
We also found it interesting that states receiving the most packages per capita from California-based businesses were nearby states: Hawaii, Alaska, Oregon, Nevada and Washington.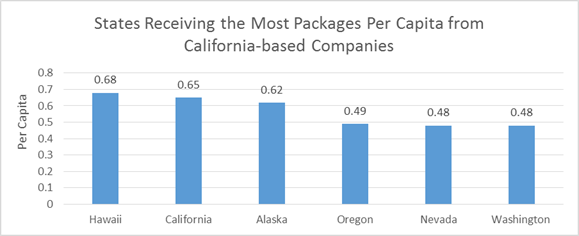 With all that said, if you're a California-based business selling statewide, keep it up! And, if you're heading to the SF Small Business Week this week, come by and say "Hi" to our Endicia team attending.
For more insight for online businesses, check out our ecommerce tips and trends page.