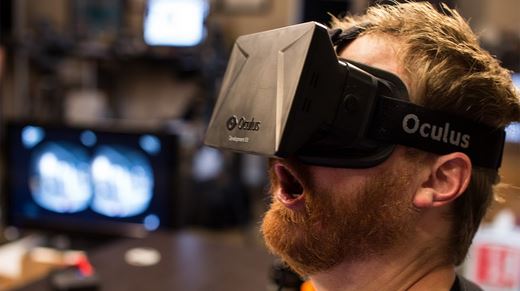 It seems like virtual reality (VR) is evolving into a hot ecommerce trend that may impact more than just the gaming experience. Microsoft, Oculus, and a dozen more players are all fighting for first place in this new market. And with two out of three consumers saying they would be interested in virtual shopping, it may just be the future of retail.
To loop you in on all that's happening now and what's to come, we've answered some of the most frequently asked questions that people have about virtual reality.
What is virtual reality, and why is it so hot?
It's an immersive software that uses a headset (like a big pair of goggles) to fill your entire field of view with an image. No matter where you look, you'll see content—now presented in 3D too.
Samsung, Sony and Google are all fighting to fit your face with their VR goggles, because whoever wins first place will claim leadership in the next era of computing, entertainment and social networking.
Virtual reality also taking off in social media because Facebook cashed out $2 billion for a company called Oculus VR, which built the prototype VR headset. Why the acquisition? Mark Zuckerberg envisions the future of Facebook as a "metaverse," or a social network where we can walk on virtual streets and talk to each other.
So, how does retail fit into all of this?
Brian Shuster, CEO of Utherverse Digital (a leading software that creates 3D virtual worlds) says virtual reality could be every bit as transformative as the World Wide Web. He explains, "Everything you see is your size, and you can try outfits on an avatar that has your identical proportions. You can match items with an online inventory containing a copy of every item of clothing in your real-world-closet."
Many consumers are open to the potential that VR brings to online shopping, with 30 percent saying they would shop more online if they were able to try products on virtually. Even half of the participants from Walker Sands What Businesses Need to Know in 2015 study said they were interested in taking Oculus for a test drive once it comes out this spring.
What does that mean for brick-and-mortar stores?
We'll have to wait and see, but it's not looking too bad for the existence of brick-and-mortar locations. Only 22 percent of consumers said they would be less likely to visit a physical store with the introduction of VR.
Plus, virtual reality can actually enrich the seamless shopping experience for brands that began as brick-and-mortar. For instance, Sephora's Innovation Lab (its digital think tank) unveiled Pocket Contour, a first-of-its-kind, cross-platform personal virtual make-up artist app that analyzes a mobile photo, and identifies a consumer's face shape to offer personalized steps on how to apply make-up for the contoured look they wish to achieve.
While technology like VR and drones might seem far off, there's no doubt that consumers will start expecting them to shape their ecommerce experience in the near future.