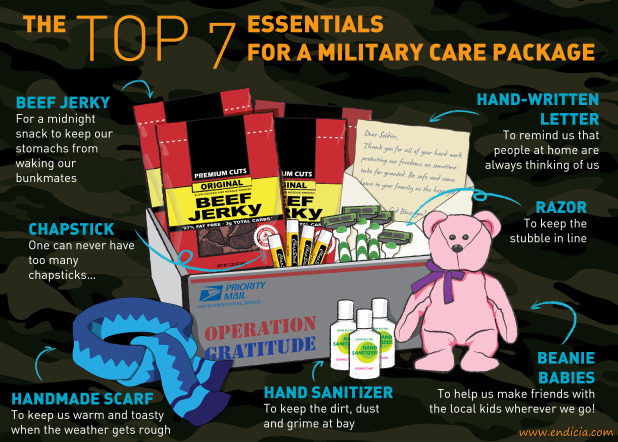 September 11, 2001 is a date that will never be forgotten in the hearts and minds of every American citizen. And this is especially true for a woman named Carolyn Blashek.
Carolyn was broken-hearted following the devastating events of that day, and determined to find a way to help in any way she could. So, one day in her living room, she started putting together care packages for the armed forces. She shipped out four care packages that day.
Over the next few weeks, Carolyn rounded up a couple of friends to help her assemble the packages. Word started to spread, and soon, the volunteers started streaming in. Next thing she knew, hundreds of thousands of volunteers had joined the cause, and Carolyn's one-man show grew into what is now known as Operation Gratitude, a non-profit organization that strives to let our soldiers know that they are valued and that someone out there is thinking of them. Today, Operation Gratitude ships more than 100,000 packages per year.
We had the pleasure of speaking with Operation Gratitude, and it was absolutely captivating to hear how this eight-staff member team (along with hundreds of thousands of volunteers) has succeeded in positively impacting the lives of soldiers all over the world, and has even played a hand in saving some of their lives.
One of the stories in particular struck a chord with us. In 2007, Carolyn received an email from a sergeant deployed overseas:
As you can see, a simple letter or care package can truly make a difference in someone's life. With the holidays just around the corner, we think there's no better time to give back and recognize those who have dedicated their lives to serving our country.
Don't know what to put in your care package? No worries! With the help of Operation Gratitude's expertise, we've compiled a list of the top seven essential items to include in the ultimate military care package.
If you've been inspired by Carolyn's story and would like to learn how to donate to Operation Gratitude, please visit her website at www.operationgratitude.com.
And to see Operation Gratitude in action, you can check out this video here.
Be sure to stay tuned for an upcoming Q&A session with Operation Gratitude's founder, Carolyn Blashek — coming soon!