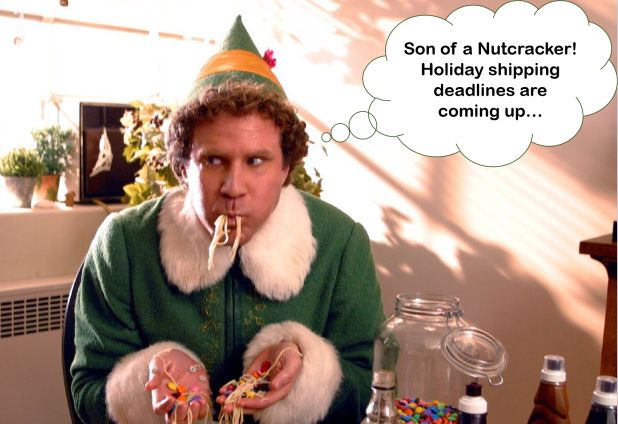 With a short holiday shopping season fast approaching (just 27 days between Thanksgiving and Christmas), early-bird shopping is critical to get ahead of the holiday rush. Also critical – ensuring you don't miss the holiday shipping deadlines for FedEx, UPS and USPS to deliver those gifts to your loved ones in time.
We've pulled together a few tips to help shoppers (and shippers!) get ready for the hustle and bustle:
Plan ahead
Make sure to jot down gift ideas before you step out the door. A little prep time makes for a more successful shopping trip.
If you're blanking on what to buy Uncle Joe, you can check out last year's most popular holiday gifts. It's also smart to take note of the best days to buy them so that you always get the greatest deal. Luckily for you, we've outlined all of that information in the infographic below.
Don't procrastinate
If you're doing your holiday shopping online this year, stay on top of the holiday shipping cutoff dates for FedEx, UPS and the USPS, and purchase your gifts with enough time to spare. You don't want to deal with the awkwardness of being empty-handed on Christmas Day because a gift didn't show up in time.
Online sellers – we know you've got these shipping deadlines taped to your wall, but here they are again, along with best days to shop, popular gifts and shipping costs by carrier.
And a last tip: if you're looking to save some cash, but you've waited until the last minute to ship, take a closer look at USPS Priority Mail. It's often more affordable and can deliver a package coast-to-coast in just 2 days (versus 5 – 6 with FedEx/UPS Ground).
Now, bring on the holiday shopping season! You're ready.
You can also check out our blog post on international holiday shipping deadlines for 2014.