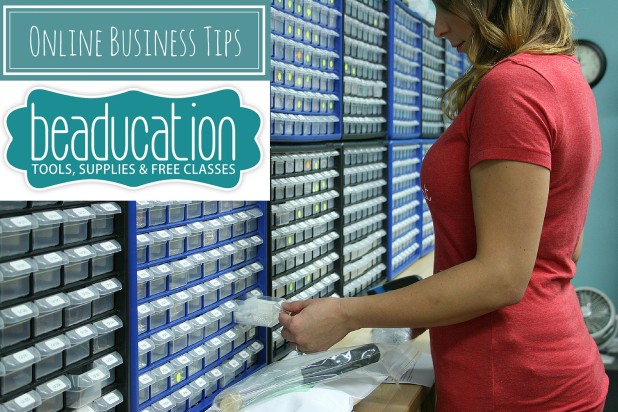 This week, we're paying special attention to Beaducation, Endicia customer and thriving online business that offers jewelry making supplies and free educational videos for jewelry-making enthusiasts worldwide.
We recently caught up with Lisa Niven Kelly, owner and founder of Beaducation, to discuss how she transformed her passion for beading and teaching metalwork techniques into a full-blown small business success story.
Pictured (from left to right): Jenn Wilson, shipping lead, and Lisa Niven Kelly, owner
Endicia: How did you come up with the idea for your online business? Have you always been interested in jewelry-making?
LNK: I got into beading back in high school. My friends and I would go to the local hardware store for seed beads and fishing line to make ankle bracelets. I continued the hobby through college and adulthood, and started experimenting more with metalwork and wirework techniques. Eventually, I decided to quit my day job and immerse myself in the jewelry industry full-time.
I started traveling all over the U.S., teaching classes and selling supplies. Years later, I wanted to start a family and I figured I could do everything I was doing, but from the comfort of my living room. My husband, Paul, helped me build a website and the name "Beaducation" just kind of stuck.
Endicia: Was it difficult to combine your love of jewelry-making with the business side of things?
LNK: Surprisingly, not at all. I think many artists try to morph their passion into a business and sometimes it doesn't work out because they have more of that "artist brain" and not as much of a desire to embrace the business side of things. But I personally love crunching the numbers and filling out the spreadsheets, on top of the jewelry making. I think you have to enjoy all elements of owning a business and not see certain tasks as a chore to be successful.
Endicia: As much as you can love it, running an online business is no easy task! Where do you find your inspiration and how do you avoid getting burnt out?
LNK: Honestly, I think I was born with the 'need to run my own business' gene. My family has always owned wineries and other ventures, and we like to say that business is in our blood. However, entering college I wasn't sure what I wanted to do, so I studied child development and just made jewelry as a hobby. I started teaching others my metalwork and wirework designs and began selling tools and supplies to make jewelry, and everything snowballed from there.
As far as finding my day-to-day inspiration, I would say it comes from my employees and our teamwork. It's impossible not to feel inspired when you have such great culture in the work space. I try to ensure that everyone is having a good time, despite how busy things get.
Endicia: Any tips you swear by for keeping your customers happy?
LNK: You genuinely have to listen to your customers' feedback and apply it to your business model. One way we did this is by creating a clear return policy. With Endicia's Pay-on-Use Returns, we can email a PDF version of a return slip to our customers as soon as they request it. Since we adopted Pay-on-Use Returns, we haven't had a single return complaint or complication. Without customers, your business wouldn't exist, so it's crucial to take what they say to heart. It's that simple.
For more inspiring small business success stories, check out our Online Business Success Stories page.